Welcome back for Part 5 of this System Center VMM series, in this post I will write about Logical Switches.
If you do not know what a Logical Switch is, it's basically the same as a Standard Switch created with New-VMswitch on a Windows Server OS. But it's defined and create by VMM, so that you can manage it from VMM. You can also from VMM 2019 convert a Standard Switch to Logical Switch.
In the previous post i talked about Port Profiles and especially Uplink Profiles that we where going to use for a Logical Switch. So let's have a look at how we create a Logical Switch.
It's the same procedure as any other thing you create, right click on Logical Switch and click on create.

First Page can click next on. Then let's set a name and Uplink mode. For 2016 or newer OS use Embedded Team as it has some new offload features for virtual machines like VMMQ and so on.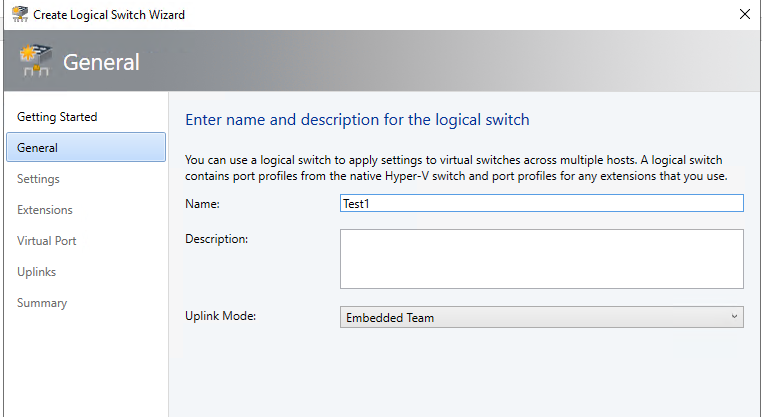 Click Next on Settings, leave at Weight, on extensions remove any if you don't have SDN enabled.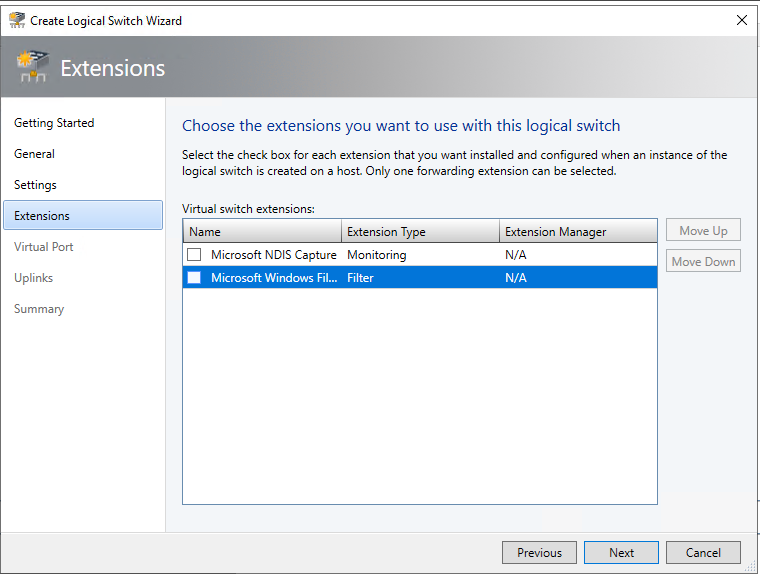 Under Virtual Port, you add your Virtual Port Profiles you need. Remember to add the bottom option as well.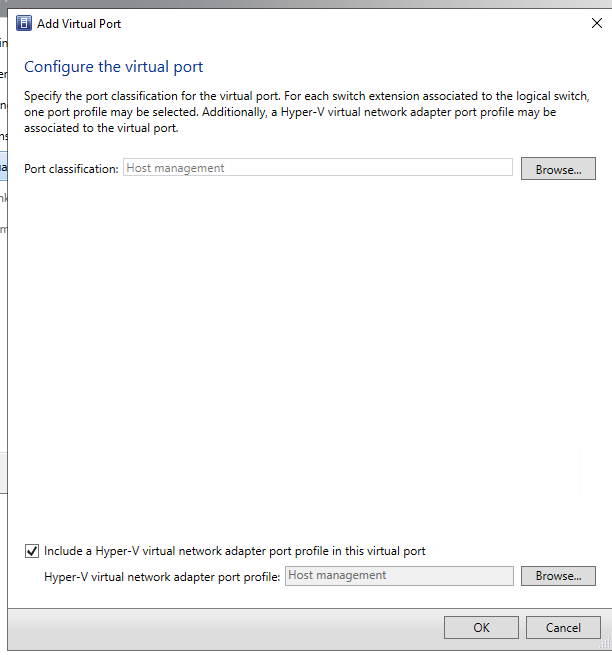 Repeat for all the Port Profiles you need.
Under Uplink now choose your Created Uplink, You can Create a new or use an existing one.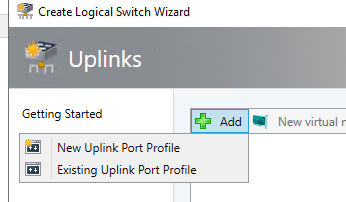 Let's choose one you have.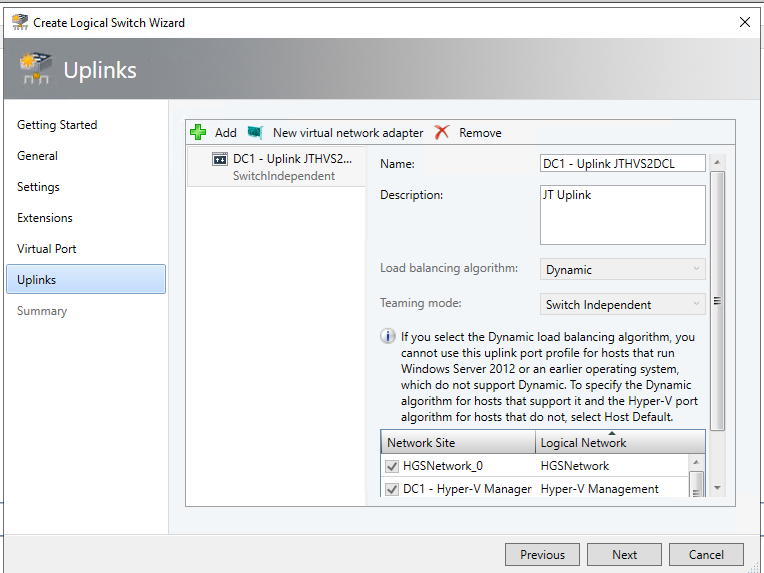 Now you can add some network interfaces as well to the Logical Switch. And when you finish you have the option to view the script.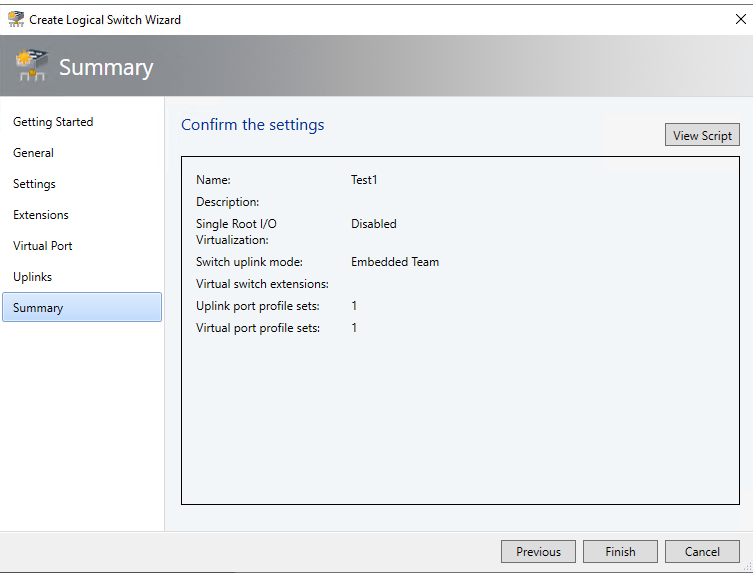 Let's have a look at how it looks on my S2D Switch.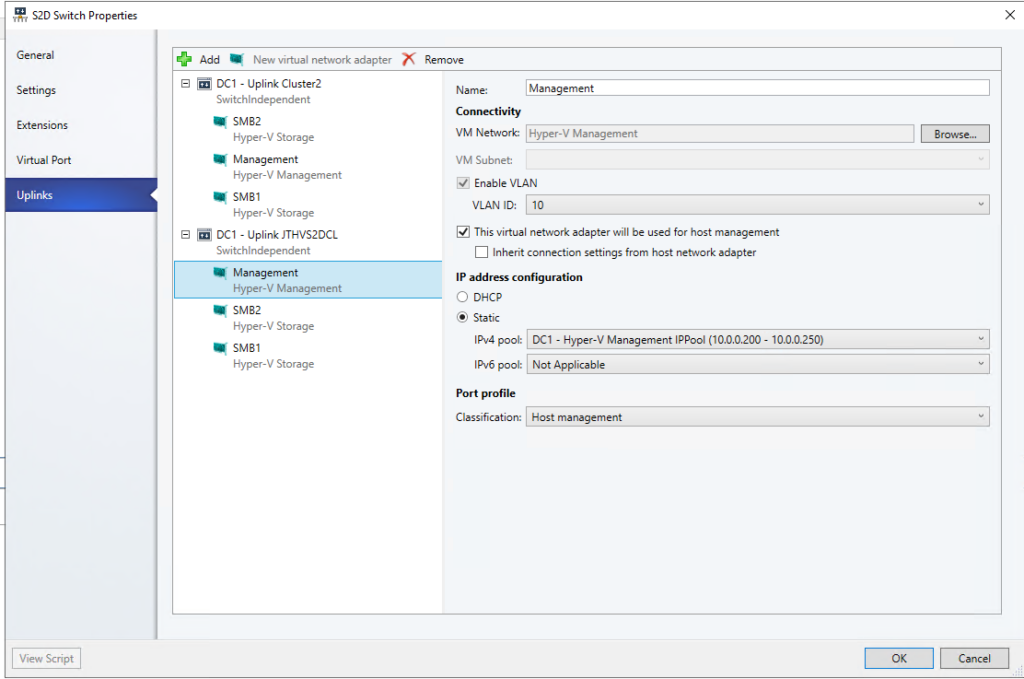 As you can see on my Logical Switch i have more then 1 Uplink Profile, with the same Virtual Nic's. If you do it this way you will be able to have 1 Logical Switch that can span multiple Datacenters and Servers/Clusters. With going back to how we defined our Host Groups and Logical Networks with Network Sites set to Host Groups. We can easy define the correct Logical Networks and Network Sites Per Uplink Profile in the Logical Switch. This allows us to seperate the networks under 1 Logical Switch.
I normally have 2-3 Logical Switches in a VMM environment depending on what setups you have.
1 Standalone Switch for all Standalone Hyper-V Hosts.
1 Standard Cluster Switch
1 S2D Switch
So for all servers that fit within these 3 Logical Switches all you need to separate them is, Host Groups, Logical Networks(Network Sites) and Uplink Port Profiles correctly configured.
How to configure System Center VMM Part 1 – Basic Design
How to configure System Center VMM Part 2 – Host Groups
How to configure System Center VMM Part 3 – Logical Network
How to configure System Center VMM Part 4 – Port Profiles
How to configure System Center VMM Part 5 – Logical Switches
How to configure System Center VMM Part 6 – Library Server
How to configure System Center VMM Part 7 – Run As Accounts
How to configure System Center VMM Part 8 – Deployment Server
How to configure System Center VMM Part 9 – Driver Tagging
How to configure System Center VMM Part 10 – Physical Computer Profiles
How to configure System Center VMM Part 11 – Bare Metal Deployment
How to configure System Center VMM Part 12 – Update Server and Baselines
How to configure System Center VMM Part 13 – Patching Hosts
How to configure System Center VMM Part 14 – Hardware Profiles
How to configure System Center VMM Part 15 – Guest OS Profiles
How to configure System Center VMM Part 16 – VM Templates
How to configure System Center VMM Part 17 – Clouds